Pediasure Complete 2+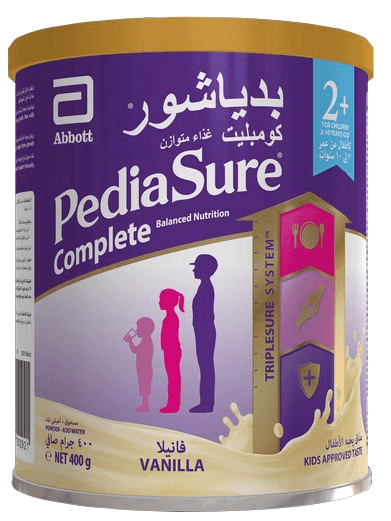 Pediasure Complete 2+
Balanced Nutrition to Help Kids Grow
PediaSure Complete 2+ is the first complementary food scientifically designed to meet the essential nutrition needs of the growing child to promote growth.
PediaSure Complete 2+, provides all essential nutrients needed for healthy growth. Supported by more than 25 years of clinical evidence.
TRIPLE SURE SYSTEM™
37 NUTRIENTS to support Growth and Development
Protein, calcium and vitamin D to support bone growth.
Balance Nutrition with Prebiotics and probiotics to support immunity.
Essential vitamins and minerals to support catch-up growth.
PediaSure Complete 2+ is suitable for children 2 - 10 years old whose caloric and nutrient requirements are increased during growth, or those who have decreased food intake due to diminished appetite, and can be used as a complementary food with or between meals.
Ask your doctor for guidance regarding your child's specific nutrition needs.
It is available in 2 exciting flavors:
Vanilla
Chocolate
INSTRUCTIONS FOR USE: To prepare one 225 mL serving: pour 190 mL of room temperature or cold water into a cup and gradually mix in 5 leveled scoops or 48.6 g of PediaSure Complete 2+ powder.
PEDIASURE COMPLETE 2+ is GLUTEN FREE